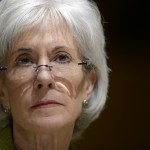 Published reports from numerous media outlets say former Kansas Governor and Health and Human Services Secretary Kathleen Sebelius will not run for the U.S. Senate seat currently held by incumbent Pat Roberts.
Health and Human Services spokeswoman Dori Salcido told the Associated Press on Friday afternoon: ""Secretary Sebelius is continuing her important work at HHS and is not considering a run for the Senate."
Sebelius resigned from her position on April 3 following a rocky rollout of the sign-ups for the Affordable Care Act also known as Obamacare. Two days earlier, Sebelius had announced that the goal of seven million sign-ups in the first six months had been achieved. President Barack Obama whose Cabinet Sebelius served in for just over five years announced on Thursday the total was now up to eight million.
Sebelius who was twice elected as Governor of Kansas was thought to be a formidable challenger to the Republican incumbent Roberts who was among her most vocal critics last fall when the rollout hit its snags, even calling for the resignation of his one-time friend.
No Democrat from Kansas has held a U.S. Senate seat since 1939.