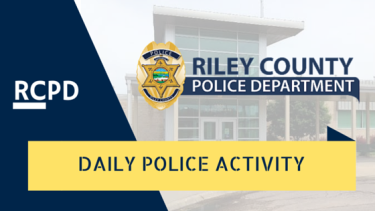 Lawyer Davis, 21, of Manhattan was arrested by RCPD detectives in the 200 block of E. 9th St. in Junction City, on June 9, 2017 at approximately 9:40 PM. Davis was arrested for aggravated robbery. Davis' bond was set at $25,000.
Officers filed a report for theft in the 2100 block of Walnut St. on June 9, 2017 at approximately 12:20 PM. Officers listed Nicholas Samuelson, 37, of Westmoreland, as the victim when he reported that an unknown suspect took several rifles, a pistol, and a shotgun from a residence he was storing them at. The total loss associated with this case is approximately $8,600. Police ask that anyone with information contact RCPD or the Manhattan Riley County Crime Stoppers.
Officers filed a report for aggravated assault in the 700 block of Allen Rd. on June 11, 2017 at approximately 5:45 PM. Officers listed Christopher Hardy, 29, of Manhattan, and Sidney Brown Jr., 16, of Manhattan, as the victims when it was reported that a known suspect threatened to shoot them while holding a firearm.