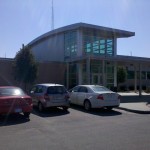 Riley County police report several arrests Monday, including that of  Denzel Leonard, 20, of Manhattan. Leonard's bond was set at $20,000 for a probation violation warrant. Police indicated Tuesday Leonard's original charge was failure to register as required by the Kansas offender registry and he is a registered violent offender.
Also Monday Stanford Kizer, 23, of Raytown, Missouri, was arrested on a failure to appear warrant, with original charges of computer crime or making false information and theft, and a motion to revoke probation to the offense of driving while suspended. Kizer's bond was set at $11,500.  
And Andrew Owens, 27, of Kansas City was taken into custody by Riley county police on a warrant for contempt of court. No bond was attached and the warrant does not state the original charge.
###
An incident worked by Riley county police Monday should serve as a reminder to lock your vehicle and keep valuables out of sight.
Jamie Osborn, 27, tells police $1,000 worth of items were taken from her vehicle while parked in the three-thousand block of Tuttle Creek Boulevard. $700 worth of the property was recovered in the surrounding area, with $300 worth still missing.
###