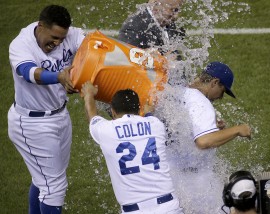 KANSAS CITY, Mo. — The crowd roared as Jason Vargas emerged from the dugout for the ninth inning, the Kansas City Royals trying to hold onto a 3-0 lead over the Oakland Athletics in a matchup of playoff hopefuls.
Five pitches later, the crowd roared even louder.
Vargas finished off his three-hitter with a flourish, breezing through the A's for his sixth career shutout. It was the second shutout by Kansas City starters in the past week and the third complete game over that stretch, a big reason why the Royals are leading the AL Central.
Vargas (9-5) retired the final 23 batters he faced, helping the Royals bounce back from having an eight-game winning streak snapped. They maintained their half-game lead over Detroit.
Omar Infante hit a two-run homer and Salvador Perez drove in the other run off Scott Kazmir (13-5), who lost to Kansas City for the second time in 10 days.
Vargas allowed four runs over 4 1/3 innings against Oakland in his first start off the disabled list, and two runs over five innings against San Francisco his last time out. But on a mild evening at the K, he looked like the dominant left-hander of earlier this season.
Mixing his pitches and catching the corners, Vargas wiggled out of a jam in the first inning and gave up a single leading off the second before muzzling Oakland the rest of the way.