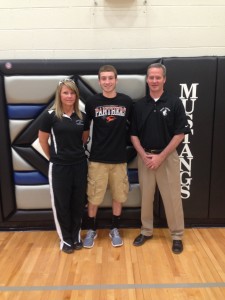 Rock Creek's Ryan Schneider became another local product to sign their letter of intent to play collegiate athletics. On Tuesday morning, Ryan signed his letter of intent to play college basketball at Neosho County.
Ryan helped lead the Mustangs to a Mid East league title and a trip to the state tournament during his senior season.
"It was a fun year, having such a young team with the sophomore posts was difficult at times but it turned out to be okay," said Ryan. "We dominated in league it seemed like and when we got to state we just played one of our poorer games."
Rock Creek dominated their sub state but fell to Riverton in the first round of the 3A state tournament 58-50 and finished with a record of 20-4 on the season.
Ryan will join a Neosho County squad that finished off 2013 with a 21-11 record. "I love the coach, we had a good bond right off the bat," says Ryan. "We both had the same ideas and I liked his style of play."
Ryan finished off his senior season with a number of accolades. He led the Mid East league in scoring at 18.5 points per game, he was selected first team all Mid East league as well as earning 2nd team all state in 3A.
(Photo: Ryan, middle, pictured with his parents)