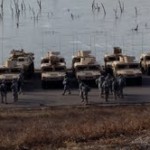 Update at 5:27 p.m. Tuesday: Riley County Police confirm via Twitter that the search has concluded for today and that further searches are unknown at this time.
***************************************************************************************************************************
The search for a missing St. George woman brought out several troops from Fort Riley, at least a dozen humvees, and various other emergency agencies Tuesday afternoon.
Riley County Police Public Information Officer Matt Droge announced the grid search Tuesday afternoon on the scene of the search at Tuttle Cove on Tuttle Creek Lake. 56 year old Jane Peterson was reported missing by her family Sunday morning, and her truck was found at Tuttle Cove Monday evening.
Droge indicates 10-15 firefighters, canine units, and a Kansas Highway Patrol helicopter were called in Monday evening. But the search efforts have now grown to 60-70 troops from Fort Riley, Riley County and Fort Riley Emergency Management, Riley County and Manhattan Fire, U-S Army Corps of Engineers, KHP, and RCPD. Kansas Search and Rescue has three dogs assisting.
Droge adds precautions have been taken to protect searchers from the extreme cold, with emergency management providing a heater as needed. At this time the search is involving professionals only.