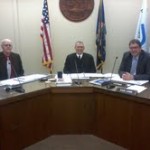 Keats, University Park and Leonardville all need new tornado sirens, according to Emergency Management Director, Pat Collins.  During Thursday's Riley County Commission meeting, Collins explained that the University Park siren needs to be replaced first, as it is the most problematic.
Collins researched this topic years ago, and provided a cost estimate.  Every year, the cost has increased.  For this reason, the siren price now stands at $20,170.78.
The commission unanimously approved the purchase of a new siren for University Park.
——————-
A request was made at the end of last year to re-zone the Thomas Outdoor Advertising tract of land.
The rezoning committee did not approve the re-zone, but the county commission sent the item back for a second look.
County Planner, Bob Isaac and Planning and Special Projects Director, Monty Wedel returned this item to the county commission Thursday.  The re-zone was approved 2-1 with Boyd opposed.
——————-
Preliminary discussions will soon begin regarding this year's Fake Patty's Day event.
RCPD Director, Brad Schoen informed the commission he does not expect any major changes from last year.
Commission Chair, Robert Boyd commented that his son, who lives in Charleston, has even been asked about this event.  Schoen said many people fly in for the event from other states.