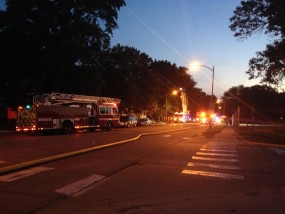 Updated 5:30 a.m. Thursday:
A report of a structure fire with occupants trapped was called in at 615 Leavenworth Street shortly after 8:30 Wednesday night. Upon arrival, Manhattan Fire Department crews found a two-story apartment building with heavy smoke and fire showing from the first floor.
Two occupants were rescued from a second floor window by another resident of the building and another occupant was helped off the roof by members of the Riley County Police Department, prior to Fire Department arrival. One occupant was transported to the hospital by Riley County Emergency Medical Service with minor injuries.
The fire reached a second alarm before it was contained within 20 minutes. A total of 22 firefighters responded on 6 fire apparatus with the last units clearing at around 12:45 a.m.
The two-story apartment building contained four units. All of the occupants of the building are displaced at this time, with assistance being provided by the American Red Cross. Loss is estimated at $15,000 to contents and $80,000 to the structure. The owner is listed as Victor Olson of Olsburg. The fire cause is under investigation at this time.
####
The Manhattan Fire Department responded to a reported structure fire in the 600 block of Leavenworth across from Woodrow Wilson Elementary School shortly after 9 p.m. Wednesday. No further information was available at the time from MFD although the street was closed to traffic while firefighters battled the blaze. We will bring you more information on the fire as it becomes available.