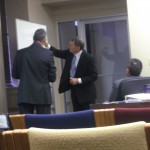 Five bids were submitted to the Riley County commission for a new motor grader. All bids were from companies in Kansas and included various options, for new and used graders. Bids went as follows:
Sellers Equpiment Inc. of Salina-"no bid
Murphy Tractor of Miltonvale-#1-68,600….#2-$193,000….#3-$213,500….#4 and #5-"no bid"….#6-$200,600
Foley Equipment Company of Topeka-#1-$60,000….#2-$210,769….#3-$210,769….#4-$210,769….#5-$205,000….#6-$205,000
Victor L. Phillips of Topeka-#2-$255,841.41
G.W. Van Keppel of Topeka-#1-"no bid"….#2-$786,340….#3-$816,000….#4-$864,000….#5 and #6-"no bid"
All bids were approved for staff evaluation and recommendation.
The second bid opening immediately followed, as two bids were submitted for the asphalt project. Both bids came out of Kansas as well:
Shilling Construction Company of Manhattan-#1-$47.62….#2-$1.04….#3-$48.37….#4-$55.46….#5-$1.04….#6-$56.16
Hall Brothers Construction Company of Marysville-#1 and #2-"no bid"….#3-$54.00….#4 and #5-"no bid"….#6-$52.46
First and fourth bids submitted were for 7,900 tons of asphalt, second and fifth bids were for 37,820 square yards, and the third and sixth bids were for 13,100 tons of asphalt. This, along with different kinds of asphalt, is the reason for the price fluctuation. All bids were approved for staff evaluation and recommendation.
Public Works Director, Leon Hobson presented a resolution for stop signs at Sherman Township. After reviewing the request, Commission Chair, Dave Lewis commented- "I have no problem with this". The commission approved the resolution unanimously.
Hobson also asked that the commission accept donations for the Farimont Park Disc Golf project, as they hope to expand the course. The commission came to a consensus to allow donations.
The third, and final item, presented by Hobson was the Lakeside Heights sewer connection fee. This discussion took additional time throughout the meeting, as the commission had a number of questions and concerns.
Commissioner, Robert Boyd raised a number of concerns, including costs for people wishing to join the line. After a long discussion of how the language reads, Boyd and Hobson went to the marker board to draw everything out.
Eventually, Boyd decided this was a wise idea to have a connection fee, as that is how other benefit districts are set up. During next Monday's meeting-the commission will decide what the fee will be.
County Planner, Bob Isaac came before the commission with a regulation amendment to Sections three and six of petition 1304. Commissioner Boyd had a number of concerns with how the language could be interpreted.
The commission asked that County Counselor, Clancy Holeman look over the language with Isaac at a later date, so they can feel more comfortable about moving forward.