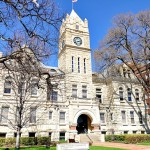 A Manhattan man charged with first degree murder, four counts of attempted murder, and aggravated burglary, appeared in Riley County District Court Tuesday morning for a pre-trial.
Mathew Wilson (34) is charged with the 1st degree premeditated murder of , Michael Lowery (22) in the early morning hours of April 7th of this year. Wilson also faces four 1st degree attempted murder charges.
Prosecuting State Attorney, Barry Wilkerson filed a motion involving gruesome photographs. He stated the deadline to get the photos to the defendant's attorney, Larry McRell is November 13th and said he intends to comply.
Judge John Bosch set a hearing for November 13th at 3:30 p.m. so McRell will have the time to review the photos. Any objections will be discussed during that hearing.
Wilson's trial is set for the week of November 18th.