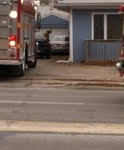 Updated 3 p.m.
A woman being pursued by police crashed her vehicle into a house in the 32-hundred block of Anderson at about two p.m. Friday.
According to police reports, 24 year old Amber Dewitt was originally contacted by police for violation of a court order out of New York. She fled in her vehicle, striking an officer with the edge of her car. The officer reportedly suffered only minor injuries to his leg.
Dewitt proceeded to travel south on Wreath and did not stop for RCPD, even with emergency lights flashing. She was unable to maintain control of her vehicle as she entered the intersection with Anderson, and struck the house in the 32-hundred block.
Two people were extricated and transported for medical treatment, although Riley County Police Public Information Officer, Matthew Droge,  indicates the injuries were not life-threatening. No names are available at this time.
The Kansas Highway patrol is handling the accident portion of the case.
KMAN's Tom Reust talked to the woman renting the house, who identified herself as Voneen Hale. She says she heard the noise, and took the little girl she was babysitting to an inside hallway. She was playing "Just Dance" with the girl. She says it "shook the whole house" …and she heard the police say "freeze! don't get out of the car"…
####
Riley County Police have confirmed a traffic tie-up in the area of Anderson and Wreath, and are advising motorists to avoid the area. Riley county Police Public Information Officer Mat Droge tells KMAN there is road blockage on eastbound Anderson around Wreath Avenue and motorists should find alternate routes. Droge also indicates a vehicle apparentlycrashed into a house–injuries did not sound life-threatening.
However KMAN's Matt Walters and Tom Reust are on the scene, and report two people were extricated and  being transported to a medical facility for treatment of injuries.
The Kansas Highway Patrol was reportedly being called in to assist in the investigation.