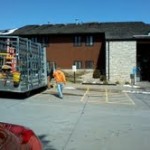 Update:
More details were released regarding the Pawnee Mental Health incident.
KMAN reported Tuesday, that Michael West (61) had driven his car into the Pawnee Mental Health building.
Details released Wednesday indicated that West drove his vehicle east through the front lawn.  He drove into a sign and a few light posts.  The damaged light posts in turn caused more damage, as the posts went through the front glass doors.
The estimated damage sums up to $15,000.  West was arrested on scene and his bond was set at $4,000.
Riley County Public Information Officer, Matt Droge  said it has not yet been determined whether West receives treatment from Pawnee.
———-
Update: Riley County police have released more information regarding the story KMAN first told you about yesterday (Tuesday) afternoon regarding a car being driven into the office building of Pawnee Mental Health.
61 year old Michael West was arrested after the incident and faces possible charges of criminal damage to property and reckless driving.
West was released on a $4,000 bond.
________________________________________________________________________________________________________
The driver of a vehicle that struck the Pawnee Mental health center office building Tuesday morning faces charges.
Riley County Police had few details, but indicated Michael West, 61, of Manhattan was taken into custody following the accident. There were no major injuries reported.
Charges are pending at this time and RCPD Public Information Officer Mat Droge declined to give specific counts until later.
The accident occurred shortly before 8:30 Tuesday morning at the Pawnee building, located in the 2,000 block of Claflin Road.
.