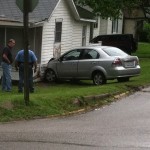 Update as of Thursday morning
KMAN has more information concerning a vehicle hitting a home Wednesday morning.
Riley County Police said that Jalyssa Florez, 17, was driving southbound on Juliette and lost control of her 2008 Chevy Aveo while on a wet road.
The vehicle crossed a residential yard and collided with a home on the 1200 block of Juliette at 8:20 in the morning. Estimated damage to the home was $1,000.
Florez was treated at Mercy Regional for minor injuries and was cited for speeding.
####
After running into a house with a vehicle, a woman was found clutching her abdomen.
KMAN received words of the vehicle vs. house injury accident Wednesday morning around 8:15. The woman was driving a silver Chevy Aveo when she lost control of the vehicle and struck a house in the 1200 block of North Juliette Street.
The woman was transported to Mercy Regional Health for minor injuries. Public Information Officer, Matt Droge did not release the woman's name yet, as the incident is still being worked.
KMAN will continue to bring you updates on this story as they become available.