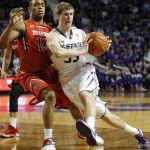 Will Spradling scored 17 points and Nino Williams added 13 to offset a rough Offensive night for two of Kansas State's best players as the Wildcats defeated Texas Tech 66-58 Tuesday night at Bramlage Coliseum to end a two-game losing streak.
After the two teams traded baskets early, K-State appeared to take control behind Spradling and Williams as the Wildcats used a 14-2 run to take a 23-11 lead with 6:22 left in the first half. K-State was also able to benefit when the Red Raiders went more than seven minutes without a Field Goal. K-State's largest lead was 14 points before heading into the locker room with a 32-20 halftime advantage.
In the second half, K-State was sluggish Offensively and the Red Raiders caught fire using a 27-16 surge to trim the Wildcat lead to 48-47 with 7:16 left in the second half. After that, K-State did what it's done best this season, play Defense and play Defense they did especially D.J. Johnson who came up with key rebounds and a blocked shot while filling in for Thonas Gipson who spent much of the half on the bench after picking up his fourth foul.
K-State was also able to put the game away by making their last 12 free throws while finishing 19 of 27 from the line for 70 percent. Spradling and Williams compensated for the struggles of Marcus Foster and Shane Southwell who combined for just six points on the night.
Wesley Iwundu was the third Wildcat in double figures with 11 points, Jaye Crockett led Tech with 15 points and Dusty Hannahs added 14. Kansas State (15-6, 5-3) is next in action on Saturday when they travel to West Virginia for a re-match with the Mountaineers. West Virginia defeated Baylor 66-64 Tuesday night in Waco, Texas. Tipoff on Saturday in Morgantown is set for 12:30 p.m.
Stay connected to all things KSU on the go just text EMAW to 88474
For full video wrap-ups, including analysis, highlights, coaches & player interviews of K-State Football & Basketball check out PowerCatGameday.com