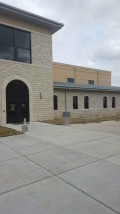 A man charged in connection with a Wamego kidnapping this past May entered a plea in Pottawatomie County Court Thursday.  David Rojas, 31, of Wamego, entered a plea of no contest to kidnapping and criminal discharge of a firearm and was found guilty by the court. His sentencing is set for December 14th.
Rojas was arrested in Wamego after police received reports of gun fire. No one was injured.
In other Pottawatomie County court news, trial dates were set for two co-defendants on aggravated robbery, battery, and felony theft charges. Joseph Charles Tonge Jr.faces a four day jury trial beginning January 16th, with a pretrial January ninth.  Zachary Evans, 25, of Riley is set for a four day trial beginning January 23rd, with a pretrial January 16th.
The two were arrested following a September fifth altercation at the Rocky Ford Fishing area, with a Georgia man found injured and his pickup taken.