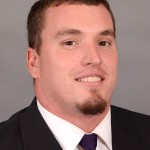 The Kansas City Star reports that former K-State fullback Braden Wilson has signed with the Kansas City Chiefs.
Wilson was a sixth round draft pick of the Chiefs and is now the fourth pick to sign with the team. He started 27 games in his K-State career and appeared in 51 games.
"I thought he was the best blocking fullback in the draft," Chiefs head coach Andy Reid told KC Chiefs.com.
Wilson joins Meshak Williams, who signed with Baltimore on Tuesday, as one of two Wildcats to sign with NFL teams this week.
Stay connected to all things KSU on the go just text EMAW to 88474
For full video wrap-ups, including analysis, highlights, coaches & player interviews of K-State Football & Basketball check out PowerCatGameday.com