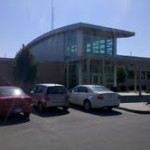 Update:
As KMAN previously reported, an accident on Casement Road apparently caused a brief power outage to more than 900 Westar Customers Monday evening.  Riley County Police released additional details yesterday Tuesday morning.
The vehicle collision took place in the 1900 block of Casement, around 9:30 Monday night, when Joshua Biltoft (24) was driving a 2005 Chrysler Town and Country.  The Manhattan man lost control of his vehicle and struck a Westar power pole.
Biltoft was transported to Mercy Regional Health Center for complaint of head pain.
Westar officials indicated later in the day they weren't sure the power outage was caused by the accident, however. A spokeswoman told KMAN the time didn't seem quite right as the outage was reported at 10:30 p.m.
————————
An accident on Casement Road apparently caused a power outage to more than 900 Manhattan Westar customers Monday night.
No details are available at this time, but according to the Riley County Police incident report released Tuesday morning, the injury accident occurred just before 9:30 p.m. Monday at 1905 Casement Road.
KMAN will provide more information when it becomes available.