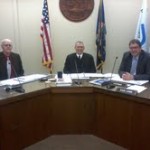 Five bids were submitted to the Riley County Commission for the tractor/loader/backhoe project recently discussed during a commission meeting. Three of the bids were submitted from local companies, and two were out of Topeka.
Commission Chair, Dave Lewis read the bids aloud during Monday's meeting, which went as follows:
KanEquip on Hwy 24 in Wamego:  N/A
Victor L. Phillips Company of Topeka:  new Case 580 SN 2013 model-$86,462
Foley Equipment of Manhattan:  new 2013 Cat 420F-$108,000, second bid-new model with five year lease-payments of $14,402
G.W. Van Keppel of Topeka:  new Volvo BL703 2013-$110,272, second bid-five year lease payments of $15,902.41
KanEquip on Lincoln Ave. in Wamego:  new Holland B95C 2013 model-$82,250, second bid-used Holland B95 Bravo 2012 model-$80,875
All of the bids were approved for staff evaluation and recommendation.
———————–
During the meeting's press conference, Public Works Director, Leon Hobson shared information about the bridge replacement project that began Monday and will continue through June.
The project is located just a quarter of a mile north McDowell Creek Road on West 40th.
Traffic will have to find alternate routes for the duration of the project.