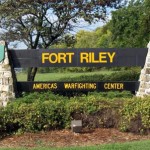 Fort Riley, including Irwin Army Community Hospital, will continue to operate with minimal manning and providing limited services Wednesday, Feb. 5, as a winter storm continues to affect the region.
Employees or Soldiers uncertain if they are expected to work are encouraged to contact their supervisor before attempting to travel to work.
Personnel are asked to exercise caution while driving, and to remain off the public roadways as much as possible to allow road crews to do their jobs.
Ogden, Henry and Trooper gates will be open as usual. Rifle Range, Grant and Estes gates will close today at 5 p.m. and reopen 5 a.m., Feb. 6.
Additional severe weather information can be found at www.riley.army.mil . Click on "Advisories" from the "About Us" menu.