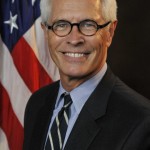 A Fort Riley soldier has been indicted in U-S District Court on theft and fraud charges involving Social Security.
U-S Attorney Barry Grissom announced Thursday that James Nickerson, 36,  faces charges of theft of public money, Social Security disability fraud, three counts of wire frad, and three counts of making false statements to the Social Security Administration. The crimes allegedly occurred from 2009 to 2011 at Fort Riley.
The crimes can carry various penalties, with the wire fraud apparently the most serious, involving a maximum penalty of 20 years and fine of up to $250,000 on each count.