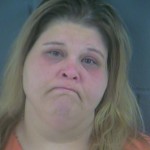 One person was taken to the hospital,  two other possible injuries were reported, and an arrest has been made following an accident in Geary county Tuesday night.
Elizabeth Ballenger (15) of Junction City was taken to the Geary Community Hospital following the accident in Junction City in the 800 block of East Chestnut.
According to the Kansas Highway Patrol, a 2002 Pontiac Grand Prix driven by Tammy Patterson (38)of Junction City was eastbound on Chestnut at a high rate of speed. Patterson lost control of the vehicle and struck a light pole, with the vehicle coming to rest on the south side of the roundabout. Ballenger was a passenger in Patterson's vehicle.
The Geary County Sheriff's department arrest reports indicate Patterson has been arrested on several charges:  reckless driving, failure to stop at an injury accident, no liability insurance, endangering a child, improper driving on laned roadway and driving under the influence of alcohol or drugs.
Patterson and another passenger, Michael Sledd (22), also of Junction City, reportedly had possible injuries.  Only Sledd had a seatbelt on. The accident was reported shortly after 7:30 p.m.