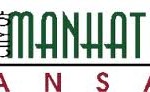 As school start dates near, the Manhattan City Pools are about to lose their audience.  The City of Manhattan Department of Parks and Recreation has announced the pools' closing dates. 
The Manhattan City Pool will remain open through Sunday, August 11, while the CiCo Pool will close on Saturday, August 10. The PetCo Foundation's PetPooloza will be held there on Sunday, August 11, from 1-4 p.m.
Northview Pool will remain open on weekends only from August 17 through Labor Day, September 2.
The Splash Park, located in City Park, will remain open from 10 a .m. -8 p.m., seven days a week, until further notice.