– Manhattan High girls soccer had their season end after a 4-0 loss to Maize in the 6A state quarterfinals. MHS finished the season with a 14-3-2 record.
– Manhattan High boys golf took 4th place in the 6A state tournament in Hutchinson. The Indians had a team score of 300...
Read More »
---
Manhattan High finished at the top of the Centennial League all-sports standings for the 2014-15 school year.
Each year the results are tallied with ten points awarded for the league champion (nine points for second place, etc.) in each individual sport. The Indians led the way with 172.5 total points, while...Read More »
---
– Wamego girls track and field state qualifiers from Regionals (Regional place in parentheses): Allison Seufert in the 800 meters (2nd) and 1600 meters (3rd), Brooke Woodward in the javelin (2nd), Maddie Vontz in the triple jump (4th) and the 4×400 meter (2nd) and 4×800 (3rd) meter relay teams. The...Read More »
---
– Manhattan High girls soccer won their regional final 2-0 over Dodge City. Tessa Irvine scored both goals for the Indians who have won nine in a row.
– Manhattan High boys track finished second at regionals in Hutchinson. Chris Martin won the 400 meters, Brandon Religa won the 800...Read More »
---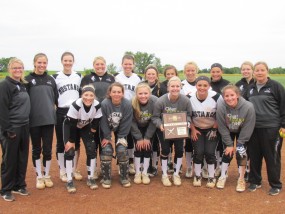 – Rock Creek softball is headed to the 4A-Division two state tournament after beating Santa Fe Trail 10-8 and Royal Valley 3-1 in their regional yesterday. Blair Campbell won both games on the mound for the Mustangs, and Brynn Hammett drove in all three runs in the regional final against...Read More »
---
« Newer Entries
Older Entries »