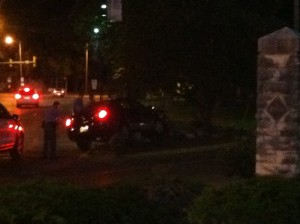 An early morning accident that occurred just northwest of Aggieville sent one Manhattan man to the hospital on Wednesday.
Alexander Handspike, 22, was traveling eastbound on Anderson Ave. when he starting speeding in an effort to beat a yellow light at the 14th Street intersection.
After clearing the intersection, Handspike attempted to negotiate a gradual bend in the road as he approached N. Manhattan Ave. but lost control of his 2008 Volkswagen Passat in the process, crashing into a stone post at the western most tip of Triangle Park.
Handspike was transported to Mercy Regional Health Center for minor injuries.
Captain Kurt Moldrup says alcohol is believed to be involved in the incident.
A citation will be issued once the presence of alcohol is confirmed or denied.