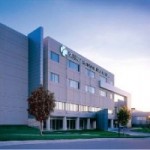 Mercy Regional Health Center has fully joined Via Christi Health under a transfer agreement between the Memorial Hospital Association (MHA) and Via Christi Health.
Mercy Regional Health Center was formed in 1996 when The Saint Mary Hospital and Memorial Hospital were combined. Since then, Via Christi and the MHA have had a joint 50-50 ownership of Mercy, with Via Christi providing management services.
Under the agreement announced Friday, the MHA transferred its ownership of Mercy to Via Christi Health.
As part of the agreement, the MHA will form a non-profit foundation to assist with improving health care services in Riley County, including programs for the poor and vulnerable, funded with an estimated $7 million from the sale of Mercy's Sunset campus to Kansas State University.
Via Christi has agreed to provide $15.5 million in capital to fund the expansion of outpatient services in the north tower at Mercy's facility on College Avenue and other improvements as needed.
Mercy Regional Health Center will be renamed Via Christi Hospital later in 2014.
"We are very excited to fully become a part of Via Christi Health and believe this agreement will strengthen our hospital here and the health care services we provide in Manhattan and the region," said John Broberg, Senior Administrator, Mercy Regional Health Center. "Via Christi has a strong commitment to its Mission and together we will be able to share best practices and learn from each other as we work to continue to provide high-quality health care services to our patients and their families."
"It has been exciting watching health care change and continue to expand in our community. Mercy is a great facility with room for expansion. The hospital gives away more than $4,000,000 a year in indigent care," said Tracey DeBruyn, MHA Board Chair. "This agreement for Mercy to fully join Via Christi Health will have an extremely positive impact on our community and the delivery of health care services for all in our area. The Memorial Hospital Association looks forward to being able to continue to assist with improving health care services in Manhattan through the establishment of a new foundation."
Jeff Korsmo, President and CEO, Via Christi Health, thanked the Memorial Hospital Association's leaders for entrusting Mercy fully to Via Christi.
"We value our relationship with the Manhattan community and are dedicated to providing the highest-quality, safest care and excellent service to patients and their family members," Korsmo said. "We are excited about continuing our strong relationship with Manhattan's physicians, nurses and other clinicians, and with the community's business and government leaders."
(information courtesy of via-christi.org/mercytransition)