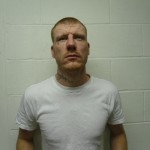 The Pottawatomie County Sheriff's Office is asking for assistance in locating an individual in connection with a recent burglary.
Mark Lawrence,  32, described as 5'11, 165 pounds, blue eyes and red hair. His address is unknown. Lawrence has been driving a white '96 Chevy Blazer 2 door with temp Kansas tag.
Lawrence is wanted in connection with a burglary in Pottawatomie County. A warrant has been issued for Lawrence by the District Court of Pottawatomie County for Burglary, a level 7 person felony, and Theft. a class A nonperson misdemeanor.
Last week KMAN  news told you about a Chevy blazer involved in a Walnut Grove burglary.
If you have information on the whereabouts of Mark Lawrence, you're asked to contact the Pottawatomie County Sheriff Office at 457-3353, or your local law enforcement agency.