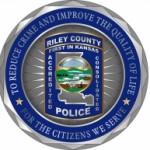 Riley County Police responded to a complaint of burglary in the 15,000 block of Homestead Road in Riley on Wednesdqay at approximately 9:10 PM. Debra Hassman, 58, of Riley told police her unsecured home had been entered and items were removed.
These items included several necklaces, rings, and jewelry totaling $3,450 in value. Currently officers are investigating the matter; however no arrests have been made at the time of this report.
Those with information about this crime are asked to contact RCPD or the Manhattan Riley County Crime Stoppers.