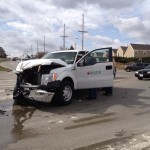 KMAN received word about an accident near the intersection of Kimball Avenue and Manhattan Avenue involving a City of Manhattan vehicle.
Riley County Public Information Officer, Mat Droge reports there are no injuries as a result of this accident, but the vehicle remains in the roadway-as it won't start.
KMAN will bring you additional details as they become available.