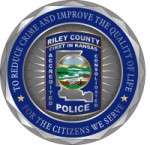 The Riley County Police Department's Special Investigations Unit (SIU) and the Pottawatomie County Sheriff s Office arrested a Manhattan man Thursday night for several drug related offenses while conducting an ongoing investigations into the illegal sale and distribution of drugs.
Aaron Norris, 20, was arrested after a search warrant was served at his home in the 1000 block of Moro Street. Norris was taken into custody for possession of marijuana with intent to distribute, no drug tax stamp, and possession of drug paraphernalia. He was confined at the Riley County Jail with a $10,000 bond.
Through the course of this search warrant several drug related items were seized to include $940.00 in US currency and 578.3 grams (1.27 pounds) of marijuana.
This investigation is ongoing and at this time there is no further information to release.
Those with information on the illegal distribution of drugs are encouraged to contact the Riley County Police Department or the Manhattan Riley County Crime Stoppers. Those members of the public choosing to use the Crime Stoppers service may remain anonymous and could be eligible for a cash reward of up to $1,000.