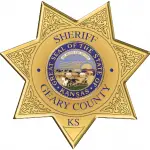 The Geary County Sheriff's office is reporting a fatal accident Saturday, involving a farm tractor rollover. Deputies responded to the 12,000 block of Humboldt Creek Road shortly after 9:30 Saturday night. The investigation revealed Larry Bliss, 77, sustained fatal injuries due to the accident.
Geary County Sheriff Tony Wolf tells KMAN his dispatchers got the call form the victim's son about 9:30 pm Saturday night. Bliss was on his property cutting wood and when he did not return to the house his wife became worried and called their son to come look for him.Sheriff Wolf adds Bliss was using the tractor with a trailer, he got the trailer loaded and appeared to be headed back to his house where he crossed a ravine. It appears the trailer forced the tractor into a sideway skid while driving down the hillside and caused the tractor to roll over,  pinning Bliss under the tractor where he was found.
The Geary County Sheriff s Department along with Junction City Fire and EMS responded to the location, Bliss was pronounced dead at the scene. An autopsy has been scheduled to either confirm or rule out a possible heart attack as a contributing factor to the accident.