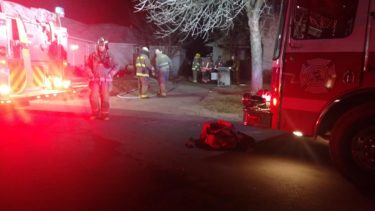 A structure fire at Timber Creek caused substantial damage Sunday night.
According to Blue Township Fire chief John Stamey, Shortly before 8 PM Sunday, Blue Township Fire along with Pottawatomie County Consolidated Fire responded to the 2000 block of Timber Creek Drive. The first arriving units found and extinguished a fire that involved the laundry room and bathroom. An investigation concluded that the the fire started in the clothes dryer. Damage is estimated to be $25,000 to the building and the contents.
The occupants are displaced from the house at this time due to extensive smoke and water damage. The Red Cross responded to provide aid to the occupants.
In total 24 fire fighters responded from Blue Township, St. George and Louisville. All are volunteers.