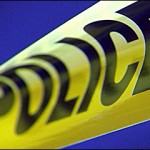 A single vehicle accident claimed the life of a 17 year old Valley Heights student Sunday morning.
According to a press release sent out by Marshall County Sheriff's Office, the accident took place around 7 o'clock that morning just a mile and a half south of Marysville on US 77.
Seth McKay (17) was driving northbound on U.S. 77 when he drove his vehicle off the roadway and struck a tree on the west side of the highway.  McKay was pronounced dead at the scene.
He was a junior at Valley Heights High School.