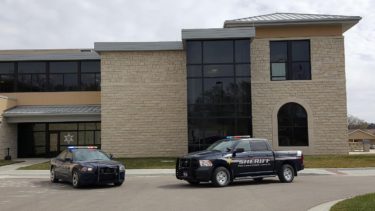 A fatal farm related accident has been reported in Pottawatomie County.  Loren Deters, 50, of rural Westmoreland was found under a tractor on Bigelow Road near K-13.
A Pottawatomie County Sheriff's Department report indicates Monday just after 11:00 a.m. deputies and emergency medical and fire personnel responded to the report of a farm tractor accident.. Upon arrival it was discovered a tractor was overturned and the male operator was underneath and deceased. The tractor had been pulling a hay trailer when the accident happened.
The accident remains under investigation.
###
The Pottawatomie County Sheriff's office is investigating an early Tuesday morning case of an injured Georgia man. Around 3:45 a.m. the Sheriff's Office received a report of an injured male near the Rocky Ford Fishing area.
Deputies along with Riley County Police Officers responded to the area and located the injured male, identified as Josh Bearden, 27, of Georgia. Bearden was transported to a local hospital for treatment of unspecified injuries that were believed to be non-life threatening.
Bearden reported to law enforcement that he suffered his injuries during an altercation with two unknown suspects. He alleged being taken against his will from rural Geary County and then left at the Rocky Ford Fishing area. The suspects reportedly fled the area in Beardens pickup, a white, 1997 Dodge Dakota,
with Georgia license tag RGH3041.
Anyone with information on this matter is urged to contact the Pottawatomie County Sheriff's Office at 457-3353.