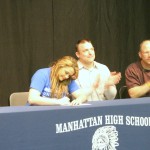 Darby Price is the second Manhattan High senior from the girls state tournament team to sign to play college basketball.
Hours after teammate Par McNair signed with Hutchinson Community College to play basketball and soccer, Price signed her letter of intent to play basketball next season at Rockhurst University.
"It's a great amount of relief," Price said. "It's done and I can't wait to start playing."
Price was the Centennial League player of the year this past season and was also named first team all-state after helping lead the Indians back to state for the second time in three years.
"She's been huge," head coach Scott Mall said. "She's a very demanding player and that really helps. You need a player like that. A lot of our success is obviously attributed to her."
Manhattan finished fourth in the 6A state tournament this year and won the Centennial League with a 13-0 league record.