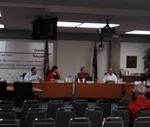 Buses, computers, and library furniture were the requests made at Wednesday's USD 383 School board meeting.
 Doug Messer, Transportation Director, brought forth the request to continue the replacement rotation of the bus fleet.  This request was to purchase six buses, three new and three used.
 The board approved unanimously to purchase of three used Type "C" 71 passenger buses from Midwest Transit Equipment, Inc of Swansea, IL in the amount of $206,157, the purchase of two new Type "A" buses from Masters Transportation, Inc. of Kearney, NB in the amount of $99,530 and one new Type "D" Multi-Function School Activity Bus from Kansas Truck Equipment Company, Inc. of Wichita, KS in the amount of $157,170.
 Dr. Mike Ribble, Director of Technology, brought the next request for computer technology forward.
 Ribble requested the purchase of new laptops and desktops, which the board passed unanimously.
 The final new business item was the purchase of library furniture. 
 During his presentation, Lucas Loughmiller, Director of Library and Instructional Media Services, explained why the items were needed.
 The board passed this item as well with a 7-0 vote.