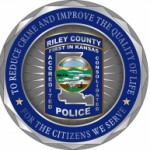 Riley County Police are investigating a report of an alleged kidnapping and sexual battery.
A 21-year-old female reported to RCPD that Thursday at approximately 2 a.m., she was assaulted in the northeast part of Manhattan by two males unknown to her. An aggravated kidnapping and sexual battery report was filed.
Due to the nature of the crime, no further details are being released at this time.
 ###
Riley County Police arrested Khiry Graham, 23, of Colorado Springs Thursday on a warrant for a probation violation, with the original charge being burglary.  Graham was taken into custody shortly before 9 p.m. Thursday. Bond was set at $5,000.