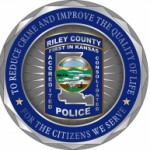 At approximately 3:50 PM Saturday, the Riley County Police Department along with emergency crews responded to a single vehicle collision in the 2100 block of McDowell Creek Road. This vehicle (motorcycle) collision occurred after the driver of a 2013 Kawasaki ZX636, Devon Jamison,30, of Fort Riley lost control and left the roadway. Jamison and a passenger, who were wearing helmets at the time, were both ejected.
The passenger of this motorcycle, Andrea Becker, 19, also of Fort Riley was transported to Mercy Regional as a result of injuries sustained during the accident.
Jamison was transported to Stormont Vail Hospital in Topeka, Kansas by Life-Flight for treatment of significant injury.