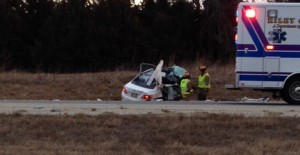 Updated:Friday morning
Names and vehicle information were provided overnight by the Kansas Highway Patrol, regarding Thursday evening's accident two miles north of Manhattan on Highway 24. KHP confirms the accident, which occurred shortly before five p.m., occurred when a 2009 Toyota Corrola driven by Carson Faessler, 19, of Lodgepole, Nebraska was eastbound and went left of center, striking a 2004 Dodge Dakota head on. The truck was driven by Donald Currey, 59, of Riley. Both had seatbelts on.
Faessler was life-flighted to St. Francis Via Christi in Wichita but is listed in good condition Friday morning. Currey was taken to Mercy Regional Health Center, where he was treated and released.
####
KMAN received more details regarding the two-vehicle injury accident which occurred at 5 p.m. Thursday on Tuttle Creek Boulevard, north of Manhattan.
According to Greg Harkrader,  a Lieutenant with the Kansas Highway Patrol, the accident happened when a female driver, traveling southbound on Tuttle Creek Boulevard, lost control of her vehicle, crossed the median and collided with a Dodge pick-up truck. "They both ended up striking each-other,"  Harkrader said. "The truck looks like it rolled about twice, coming to rest on its wheels, and the white passenger car came to rest on the east shoulder."
The violent collision left one driver in critical condition and the other with non-life threatening injuries. " The driver of the white car, she's been transported to a hospital in Wichita air ambulance, and the driver of the Blue truck was taken to Mercy Regional in Manhattan," Harkrader said.
Traffic going both ways was completely blocked-off for roughly 20 minutes,  however emergency crews quickly opened one lane and cleared the entire scene of the accident within a couple of hours.
The Kansas Highway Patrol was assisted by the Riley County Police Department, Riley County EMS, and Life Star.
Specific information regarding the names of both drivers and their vehicles has not been released, but KMAN will keep you updated as more details emerge.
————–
Original Post:
5:20 p.m. – A  serious, head-on collision occurred on North 48th and Tuttle Creek Boulevard shortly before five p.m.
The accident involved a 4×4 pickup and a small, two-door vehicle. Two people were injured, with one in critical condition. The Riley County Police Department and other emergency personnel originally closed down traffic on Tuttle Creek Boulevard, but have since opened one lane.
KMAN News Director, Cathy Dawes was on scene and said Life Star transported one of the victims in critical condition to Wichita.
Riley County EMS Director, Larry Couchman was also on scene and said another victim was transported to Mercy Regional Health Center with non life threatening injures.
KMAN will bring you more information as it becomes available.