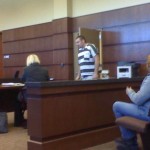 Another status hearing was held for the Wamego man charged in connection with last month's shooting at Quality Inn and Suites.
Dustin Monroe (33) appeared in Pottawatomie County District Court Judge, Jeff Elder's courtroom Tuesday morning.
Monroe is charged with three counts of aggravated assault of a law enforcement officer, two counts of criminal discharge of a firearm into an unoccupied building and one count of criminal damage to property.
Monroe's Attorney, Lora Ingels asked that Judge Elder continue the case for another status hearing, as there is a "massive amount" of discovery.  Ingels stated there were over 30 videos to review in this case.  She indicated she had not yet had the time to look at all of the footage, but videos continue to come in.
Judge Elder set Monroe's next appearance for February 25th at 10:30 a.m.