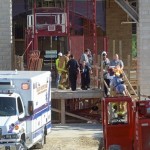 Riley County Emergency responders assisted a worker at the West Stadium construction site, at Bill Snyder Family Stadium, Friday morning.
Officials transported the man by ambulance after an accident. No details were available regarding what kind of accident took place, but the man was released from Mercy Regional Health Center. According to a Mortenson Construction spokesman, the man will be back to work on Monday.
No other details are available at this time.