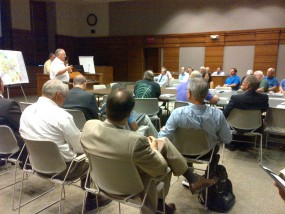 Could Manhattan, Pottawatomie County, and Riley County residents face a tax for the Manhattan Area Technical College in the future?  This was a question addressed during Thursday's joint city/county meeting, held at City Hall on Poyntz Avenue.
MATC President, Rob Edleston stressed the need for funding, as they have raised tuition every year for the past decade.
Edleston has attempted to gain funding through donations and by exploring collaborative efforts, but he said it makes the best sense to look into taxing options.  He added, the Kansas Board of Regents told him to stop asking for money.
Although Edleston said he would support a tax for MATC, he did say the people of the region should have the right to vote on that possibility.  When asked how quickly he hopes to have it accomplished, he replied that ideally he hopes for November, but realizes that is a quick time period to work with.
Edleston went into some of the details of the program to try to help paint the picture for the college's problem.  The most expensive program, according to him, is dental hygiene.  That program in particular serviced 1,300 people this past year.
These services utilized by the residents, that are offered by the school, could be in jeopardy.  Edleston said the people should have the right to choose whether these services can stay in place, because they are ultimately making the impact on the people they serve.
Several of the Manhattan City Commissioners provided comments on the amounts of taxes they already are juggling, and how many requests they continue to receive for taxes-including the Fieldhouse project.
———————
The only other agenda item was an update on the Manhattan Urban Comprehensive Plan.  This presentation was similar to other presentations made in other meetings this week, including Tuesday night's Manhattan City Commission meeting.
A few commissioners mentioned concerns with sewer and water in the Blue Township area, which is one of the largest areas of projected residential growth for the coming years.