K-State volleyball made their final match this season at Ahearn Fieldhouse one to remember on Saturday night with an upset of #25 Iowa State 25-21, 25-16, 25-23. Six Wildcat seniors were honored following the game as Courtney Traxson led the team with 11 kills and Kaitlynn Pelger had 10.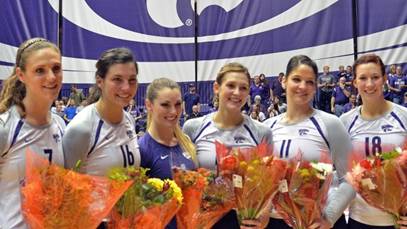 Fellow senior Dakota Kaufman registered six kills, and Tristan McCarty came up with eight digs. Courtney Cook and Lilla Porubek also were a part of the class that went to two NCAA tournaments including a run to the Sweet 16 in 2011.
Redshirt freshman setter Katie Brand had her 11th double-double of the season with 26 assists and 12 digs, while Pelger topped the K-State (18-11, 6-10) effort at the net with five blocks.
Mackenzie Bigbee picked up 9 kills for Iowa State (18-9, 11-5), but only three of those came after the first set.
The NCAA Tournament bracket was released on Sunday night, and the Cats were not selected for the field of 64. Four Big 12 teams will go to the Big Dance including #1 national seed Texas, who hosts Texas State in the opening round on Thursday night. Kansas will also host the first and seconds rounds in Lawrence as the #14 national seed, opening with Wichita State on Friday night. The Cyclones will head to Minneapolis where they will meet former Big 12 rival Colorado on Friday afternoon. Oklahoma goes west to Los Angeles, and will face Alabama to start the tourney.