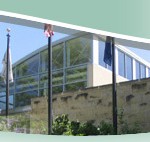 Although the ribbon has already been cut, Allegiant Air, and its recently-announced service at the Manhattan Regional Airport, came across a bit of turbulence at Tuesday night's Manhattan City Commission meeting. 
As Manhattan City Commissioners discussed the incentive package offered to bring Allegiant to the airport, several of the commissioners had their concerns…which ultimately could have put a stop to the service all together.  The incentive package includes the waiver of all airport fees for two years and the reimbursement of up to $100,000 in operating costs per year for two years.  It's an incentive package Mayor John Matta isn't sure was negotiated as well as it could have been, but one that Airport Director Peter Van Kuren says was necessary.
But it wasn't only the incentive package that had some commissioners worried.  It was the track record and business model of Allegiant Air.  Mayor Pro Tem Wynn Butler said he found that Allegiant Air makes more of it's profit from selling hotel and entertainment packages at its destinations, rather than on airfare and ticket booking.  In fact, he said the company has pulled out of communities in which planes were consistently 90% booked because patrons were not buying the additional packages.
Butler was also concerned about the number of, or lack thereof, of connections the airline offers.  And Van Kuren admitted Allegiant doesn't claim to be an airline that provides connections.
 The Commission did approve the incentive package, Butler voted against it.
And, as of last Tuesday night, anyone who is thinking of a hailing a cab after too many spirits, may want to take a breather before doing so.  The Manhattan City Commission unamiously voted to approve a ordinance that will allow taxi services to charge a $75.00 cleaning fee to patrons who, as a result of alcohol consumption, may become ill in their cab.  Richard Gibson, partner of Wilcat Taxi, says incidents not only result in loss of income for the company, as the cab has to be taken out of service during it's peak hours but also cost the company. as a cleaning must be performed.
Although the city did pass this ordinance, it will in no way make the city responsible for collection of this fee.  Rather, it will allow the taxi services to call on the Riley County Police Department for legal aid if the fee is not easily collected.
The City of Manhattan has given its thumbs up to the Bluemont Youth Cabin…and it's quest to be added to the National Register of Historic Places and Register of Historic Kansas Places.  At Tuesday night's Commission Meeting, during public comment, President of the Manhattan-Riley County Preservation Alliance, Kathy Dzewaltowski (zoo-wull-tow-ski) said the property is worthy of the nomination based on its history and its significance to the City of Manhattan.  Dzewaltowski said Manhattan benefitted from a number of works progress administration projects during the "new deal" years, including the Sunset Zoo, former city and Douglas pools, projects around the university…and the Bluemont Youth Cabin.
Besides it's worthiness, Dzewaltowski said it's place on the register would make it eligible for rehabilitation tax credits and other granting opportunities…
 Mayor Pro Tem Wynn Butler, although in support of its nomination, is interested in the long-term maintenance of the building.
Mayor John Matta was authorized by a unamious vote to send a letter to the State Historic Preservation Officer in support of the nomination.  The nomination will be under review at the Kansas Historic Sites Review Board meeting in November.  If approved by the Sites Review Board, it will be forwarded to the National Parks Service for consideration.