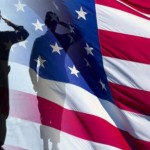 The Kansas Veterans' Cemetery at Fort Riley located near Manhattan will honor fallen veterans and their loved ones again this year on Memorial Day. The Commemorative Service is open to the public and will begin at 11:00 am, May 26th at the Kansas Veterans Cemetery at 5181 Wildcat Creek Road near the Manhattan Regional Airport. This year's program includes an ensemble from the First Infantry Division Band and the Manhattan Charades Quartet. Immediately following the ceremony light refreshments will be provided at a hospitality suite in the honor guard room adjacent to the administrative building.
And the 1st Infantry Division and Fort Riley has scheduled its annual Memorial Day Ceremony. It is slated to begin at 11:40 a.m. Monday at the Post Cemetery on Huebner Rd.
The ceremony features Maj. Gen. Paul Funk II, Commanding General, 1st Infantry Division, as guest speaker, and Command Sgt. Maj. Michael Grinston, Senior Enlisted for the 1st Infantry Division and Fort Riley, who will lay the commemorative wreath in honor of those who have made the ultimate sacrifice.
Fort Riley will join Military installations across the country in conducting a 21-Gun Salute at noon to honor fallen service members. This will be followed by the National Anthem and the raising of the flag to full staff. The 1st Infantry Division Band will provide music before and during the ceremony. All graves in the Post Cemetery will be decorated with U.S. flags.