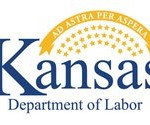 Unemployment numbers are unchanged for the Manhattan metropolitan area compared to the month before, according to figures just released by the Kansas Department of Labor. 5.4 percent is the unemployment rate for February, which was the same in January and a bit lower than the 5.5 percent from last February.
The metro area includes Riley, Pottawatomie, and Geary Counties. The Manhattan metro area's unemployment rate in February is the lowest in the state when compared to other metro areas
The city of Manhattan by itself had a 4.2 percent rate, up a tenth from January but lower than last February's 4.4 percent. The city of Manhattan by itself still compares favorably to other cities in the state. Only Leawood and Garden City had lower rates with four percent and 4.1 percent respectively, and Manhattan tied with Dodge City, which also had a 4.2 percent rate.
Area county numbers include Riley with 4.7, Pottawatomie with 5.7, Geary with 6.8, and Clay with 4.6 percent. Riley and Pottawatomie county rates for February were both up from the month before, Geary county's was down, and Clay County's was unchanged.