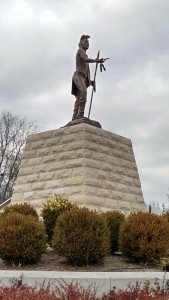 After two years of planning and several months of designing, The "Peace Offering on the Blue" monument has reached its new home atop the pedestal in the 4th and Bluemont roundabout.
"This is the end product of a couple of years of the Advisory Board coming up with the process to ask for proposals, to vet those proposals and to figure out how to finance the first acquisition of public sculpture for Manhattan," said Jay Nelson, Arts and Humanities Advisory Board member
The City financed the $65,000 project by using $29,000 from the 4th street Transport Development District (TDD). McDonald's also dedicated $23,000 for the sculpture from the TDD for their new retail location. The remaining balance came from other City funds.
"Peace Offering on the Blue" depicts a member of the Kaw Indian Tribe; and according to Nelson, the Advisory Board conducted extensive research to preserve the historical accuracy of the figure.
"We wanted to honor our Native American heritage here, and this sculpture with its dignified look and modest clothing and the message of peace and dignity, is really I think in line with being politically correct in that area," said Nelson.
The board also spoke with a representative of the Kaw Nation before moving forward with the project.
"Our liaison contacted them and showed them a picture of the maquette and made sure that it was not gonna be controversial as far as the Kaw Nation was concerned," added Nelson.
Artist Tom Ford of Gillette, Wyoming built the larger than life-sized statue. Ford and a group of helpers began their work on September 16th and spent 10-12 hours each day, designing and sculpting and moulding the 38 sections that piece together the monument.
"It's just not me alone, you got welders, you got wax people, you got mould people and you've got metal people that are welding stuff together for me," said Ford.
Most of the $65,000 Ford received, were used to cover the material production costs of the monument. In order to compensate Ford for his time and artistic talents, the City will sell 50 maquettes of the statue. And if fronting his time and effort weren't already enough, Ford will donate a portion of the proceeds back to the City to use for future art projects around town.