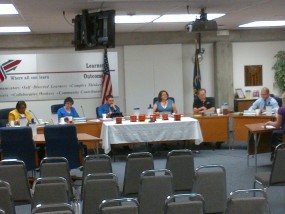 Under Kansas Statute, a school board can choose to adopt a resolution authorizing a local levy for capital outlay expenditures for a period of time as determined by the Board of Education. The maximum mill rate limit for the capital outlay fund is eight mills.
This was the major topic of discussion during Wednesday evening's USD 383 Manhattan Ogden School Board meeting.  Board members wished to clarify that these discussions do not set the mill levy at any certain number.  This resolution will just set the authority, and the mill levy will then be set in August.
School Board Member, Aaron Estabrook raised the question of why the recommendation was to establish a mill levy resolution that would not exceed seven mills.  Estabrook believed it would be better to set the resolution amount at eight mills, which would give the school board more flexibility when they establish the mill in a few months.
Other board members, including Marcia Rozell, seemed to agree.  Estabrook made a motion to pass the recommended resolution, but to change the amount from seven to eight mills.  The motion passed on a 5-2 vote, with Darell Edie and Curt Herrman opposed.
——————–
Several new business items were also approved during the meeting, including the school meal prices for next year.  A ten cent increase in lunch prices was approved, but breakfast meal prices will remain the same.  Elementary age children will now pay $2.55 for meals during the next school year, secondary students will pay $2.75, and adults will pay $3.50.
The Eugene Field roof replacement bid from Danker Roofing was also approved unanimously.
——————–
Executive Director Teaching and Learning, Carol Adams was proud to report that the MAP assessments turned out well, despite the headaches they caused in the beginning of the testing process.
She reported that by the end of the school year, most schools were reporting 100% completion of the tests.
——————–
A retiree recognition and reception took place for the 18 staff members retiring this year, and the Manhattan High School Forensics Team was recognized for their achievement of becoming the Kansas 6A Champions.