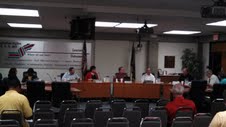 Only one new business item was slated for Wednesday night's USD 383 school board meeting, but that didn't mean the meeting would be lacking discussion.
The board took some time before even hitting the main event to tackle some spoken and written reports and some of the issues they possessed.
During the informational piece concerning the Summer 2013 Programs Summary, Darell Edie, board member, remarked that "I think our state and federal government could do a lot better if they used this type of program" when he was processing that with the summer programs, they are only paying about $50 per students involved.
Carol Adams, Executive Director of Teaching and Learning, emphasized they focus on trying to save money.
"I think it certainly proves that we utilize our program funding well", Adams said.
The board also looked at the cost of clean up that is being done at Bishop stadium as the district maintenance department is the one doing that now and is costing them some overtime.
Keith Noll, maintenance director, however, told the board he would be willing to have some help by volunteer groups or those needing community service hours.
"If you could get somebody, even that could do it on a Saturday morning or something like that," Noll said, "I don't think anyone will want to do it at 11:00 on a Friday night, but on a Saturday morning there might be something we can surely look into."
The new business item at the meeting concerned the addition of a special education staff position.
The board was informed this position was needed to not only help the returning student with whom this person would be helping, but it would also be beneficial by not taking away from the other students and their studies.
After a bit of discussion, the board unanimously agreed to add the position.
The board will be meeting again on October 16.