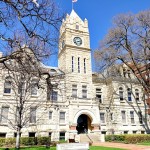 The Manhattan man charged in the armed robbery case at Dara's Convenience Store, that took place late last year, will be sent to Larned for evaluation.  This ruling was made during his status hearing, held Tuesday afternoon in Riley County District Court.
Travis Bowman (22) appeared in court, via web cam, with his attorney, Phylemon Yau.  Judge William Malcolm reminded Yow that he was waiting on an order to send Bowman to Pawnee Mental Health for a screening, to ensure competency to stand trial.
Yau informed the court that the Pawnee employee that usually does those screenings will be out of the office until May.  Due to this information, Yau presented an order that would transport Bowman to Larned for the evaluation.
Judge Malcolm signed the order, but asked that Yau return on March 4th at 1:00 that afternoon, to ensure that Bowman has indeed left for Larned.