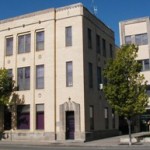 Two Riley County employees were promoted during Thursday's county commission meeting.  The first was for the parks department and the second was for the health department.
Both individuals were promoted to full time positions and will gain more responsibilities.
————-
The commission did take action on a few purchase authorizations for the noxious weeds department.  First was a purchase authorization for a utility tractor and loader, and the second was for a no-till grass drill.
Both were unanimously approved and signed.
————-
The commission adjourned after the 20 minute meeting concluded, in order to attend the change of command ceremony at Fort Riley.